Dinner / Holiday / Turkey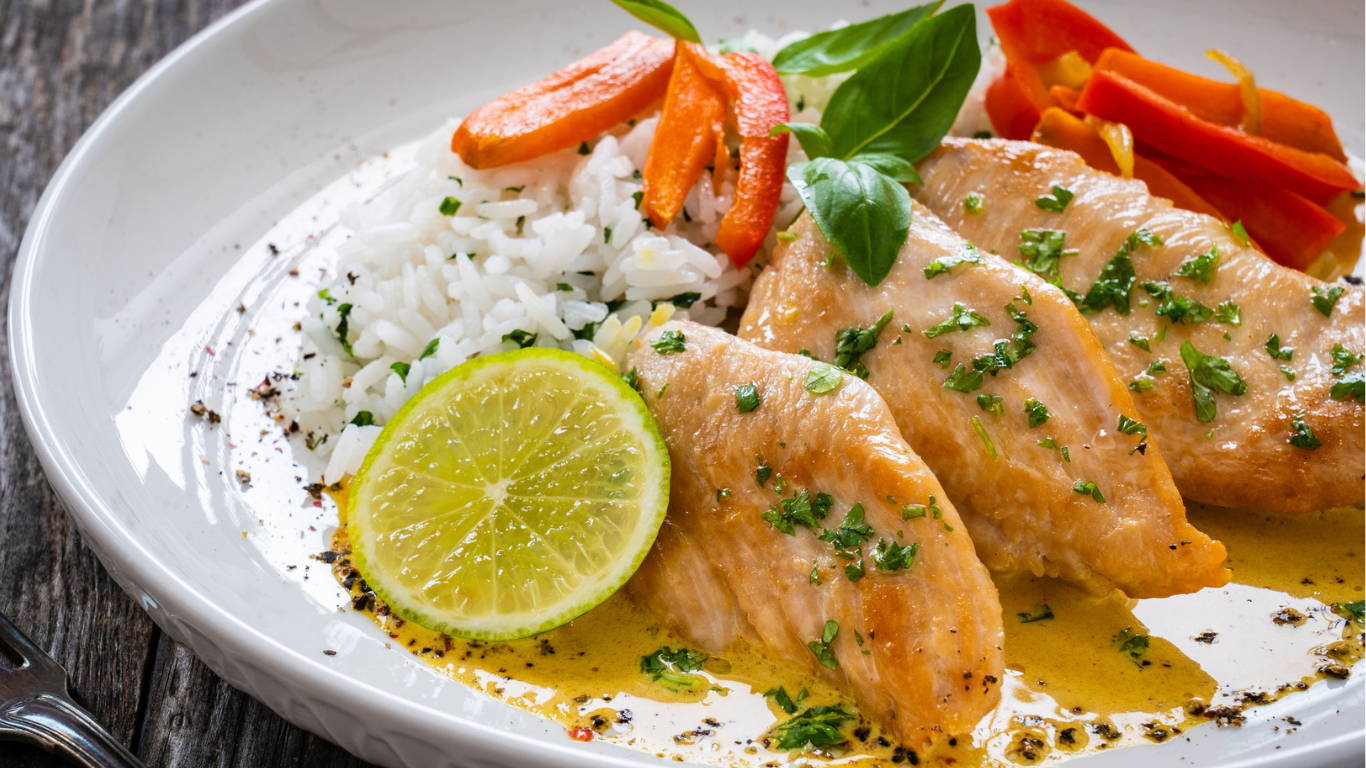 Chef's Note
Elevate your Thanksgiving feast with a unique twist: Thai Roasted Turkey paired with Coconut Rice. Infused with Thai spices and accompanied by the subtle sweetness of coconut, this recipe brings a deliciously unexpected flavor to your holiday table. Spice up tradition and savor a Thanksgiving with a touch of Thai flair!
1/2 cup fish sauce


1 carrot, finely chopped


1/2 bunch mint


1/3 cup Fiesta Tropicalé Organic Shredded Coconut


1 lime, juiced


1/2 cup sweet chili sauce


3/4 pound ground pork


10 pound whole turkey

4 cups jasmine rice, cooked


1/4 cup Fiesta Tropicalé Organic Canned Coconut Milk


5 stalks lemongrass


4 kaffir lime leaves, crushed


2 Tbsp. Fiesta Tropicalé Organic Virgin Coconut Oil, melted

Brine turkey 24 hours prior to cooking. Combine fish sauce and sweet chili sauce in a bowl. Baste mixture on turkey and inside the cavity. Place turkey on a tray, covering with plastic wrap. Let chill overnight.
The next day, preheat the oven to 400°F. Reserve turkey brine. Arrange 2 kaffir lime leaves, 3 lemongrass and half the mint in a roasting pan. Add 2 cups water and a wire rack on top. Add turkey and set aside to warm to room temperature.
Mix shredded coconut, remaining lemongrass, kaffir lime leaves, ground pork, 2 cups cooked jasmine rice, 1/4 cup sweet chili sauce, carrot, and reserved turkey brine. Fill the turkey cavity with stuffing, tie the legs together with kitchen string, and tuck the wings under the breast. Brush coconut oil over the turkey.
Place the turkey in the oven and roast for 30 minutes. Reduce heat to 300°F and bake for 2 hours. In the last 30 minutes, baste the turkey with sauce from the pan every 10 minutes. Remove turkey from the oven, reserving pan juices. Cover turkey loosely with foil and rest for 20 minutes.
Optional: To make the coconut rice, combine cooked jasmine rice, coconut milk, and 1/3 cup of the reserved pan juices.
Transfer turkey to a platter, serve with coconut rice and carve at Thanksgiving table!