Dinner / Savor / Pad Thai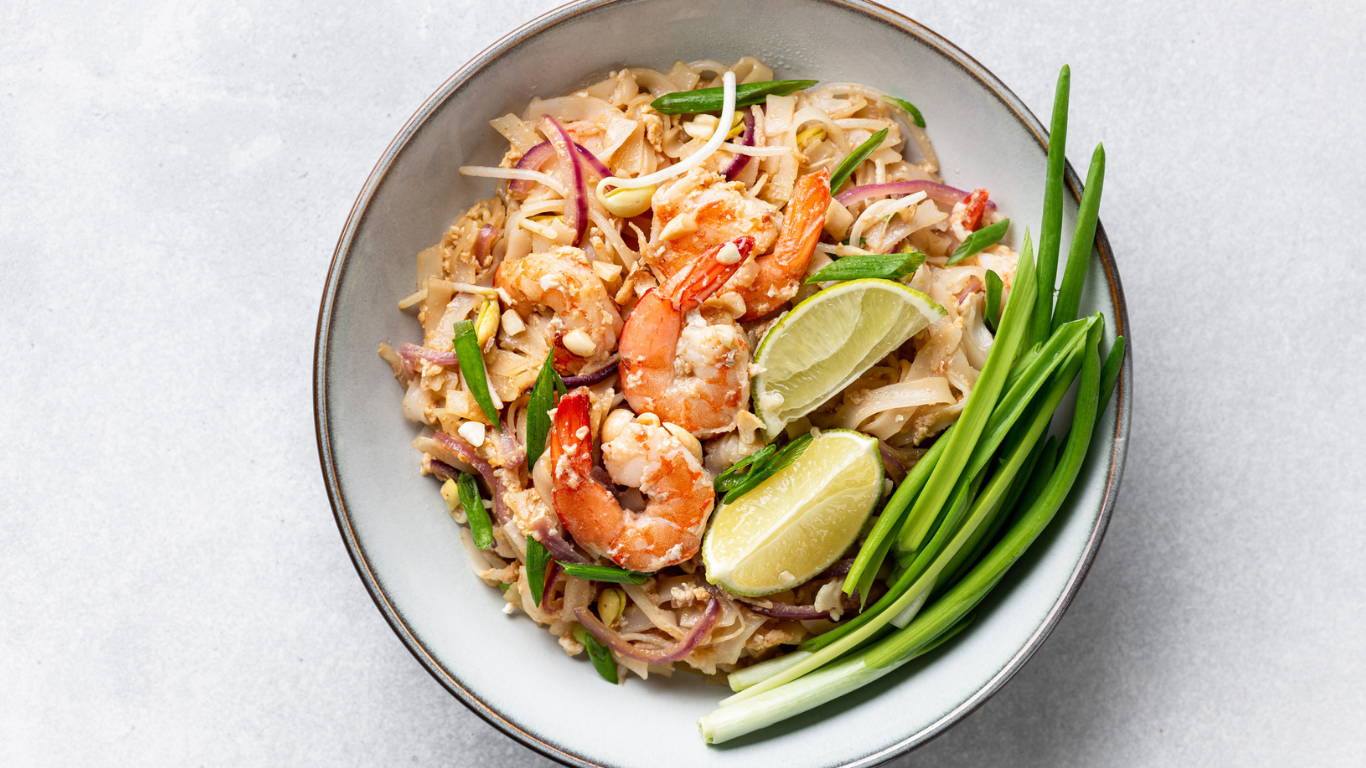 Chef's Note
This Coconut Curry Pad Thai recipe combines the rich and creamy flavors of coconut milk with the bold and aromatic spices of curry, resulting in a tantalizing fusion of Thai and Indian cuisines. Tender noodles soak up the fragrant sauce, while succulent chicken, shrimp, or tofu (or protein of your choice) adds a protein-packed punch. A squeeze of fresh lime juice adds the perfect balance of acidity, making this dish a harmonious and flavorful delight for your taste buds.
1 can Fiesta Tropicalé Organic Canned Coconut Milk

 

2 Tbsp. olive oil

3 cloves of garlic, finely chopped

2 tsp. minced ginger

2 Tbsp. red curry paste

1 Tbsp. fish sauce

1 Tbsp. honey

1 tsp. curry powder

1/8-1/4 tsp. cayenne pepper depending on spice preference

1 lime

2 cups chicken or vegetable broth

1 large chicken breast (or any protein you would like such as shrimp)

6 oz pad Thai rice noodles
To begin, start by following the instructions on your pad Thai noodles packaging and cook noodles.
Meanwhile, in a medium-sized saucepan, heat olive oil over medium heat. Once it's hot, add the garlic and sauté for about 1 minute, being careful not to let it brown.
Next, introduce the ginger, curry paste, curry powder, and cayenne to the pan, stirring them together to combine their flavors.
Now, pour in the coconut milk, honey, fish sauce, and 1 cup of chicken broth. Bring the mixture to a simmer, allowing the flavors to meld together.
If cooking chicken, place the chicken breast into the pan and cover it with a lid. Reduce the heat to medium-low. Allow the chicken to simmer in the sauce until it becomes tender enough to shred easily with two forks. This should take approximately 25-35 minutes, depending on the thickness of the breast. Once the chicken is fully cooked, carefully remove it from the pan and use two forks to shred it into bite-sized pieces.
Pour in the second cup of chicken broth, and bring the sauce back to a simmer.
If your pad Thai noodles have been soaking in water, drain them first. Then, add the noodles to the pan and stir to ensure they are well coated with the sauce. Continue to stir for about 5 minutes, or until the noodles reach the desired level of tenderness.
Squeeze fresh lime juice from half of a lime into the pan and return the shredded chicken to the mixture. Stir thoroughly to combine all the ingredients, and then remove the pan from the heat. Serve the dish hot, garnished with a lime wedge. Enjoy!