Dinner / Chicken / Savory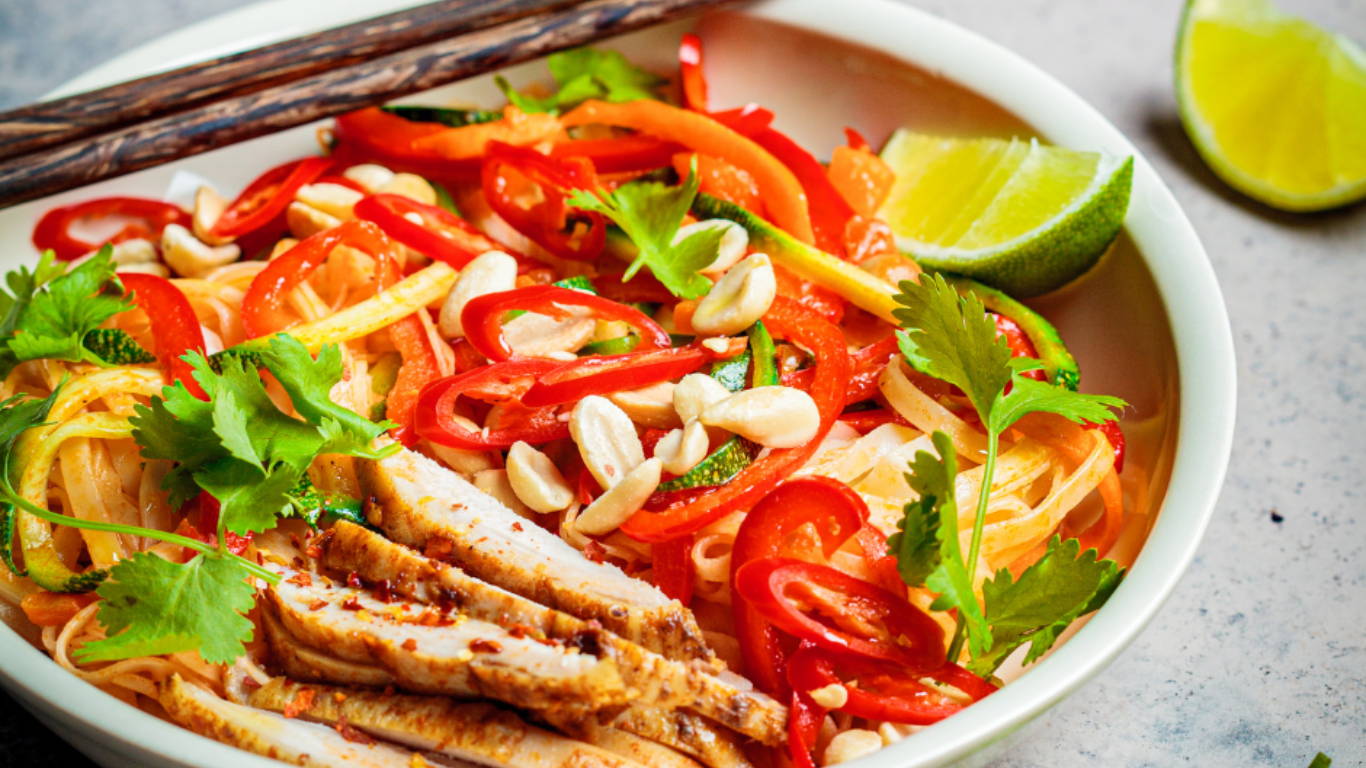 Chef's Note
This mouthwatering Coconut Peanut Chicken recipe features tender chicken breast is bathed in a rich, creamy coconut and peanut sauce, creating a harmonious blend of savory and nutty flavors. Served over angel hair pasta and garnished with fresh cilantro and crushed peanuts, this dish is a delightful fusion of Asian-inspired cuisine that's sure to tantalize your taste buds.
1 (12 oz.) box angel hair pasta

1 (13.5 oz.) can Fiesta Tropicalé Organic Canned Coconut Milk

1 cup creamy peanut butter

1/2 cup chicken broth

2 Tbsp. soy sauce

2 Tbsp. brown sugar

2 tsp. garlic, minced

2 tsp. ground cumin

2 tsp. curry powder

Salt

Cayenne Pepper

2 Tbsp. sesame oil

4 (4 oz.) chicken breasts, cut into chunks

1 cup sliced green onions

1 cup chopped carrots

Juice of 1 lime

Crushed peanuts (for garnish)

Cilantro (for garnish)
Made with Fiesta Tropicale
Cook pasta according to package directions.
For the Coconut Peanut Sauce: In a saucepan over medium heat, combine coconut milk, peanut butter, and broth.
Add remaining sauce ingredients, stir constantly until sauce thickens. Remove from heat and cover.
To prepare the chicken: In a large skillet over medium heat, pour sesame oil and stir fry chicken until partly cooked through.
While chicken is cooking, squeeze lime juice into the pan to add moisture.
Set aside 1/2 cup of scallions for garnish. Add the rest of the scallions, carrots to the chicken.
Sauté until vegetables are tender and chicken is cooked through, adding more lime juice as needed to keep sauté moist.
Pour some coconut sauce over the chicken and toss to coat (about 1/2 -1 cup).
Transfer cooked pasta onto serving dish and spoon coconut sauce on top of pasta. Spoon chicken mixture on top of pasta, and drizzle with more coconut sauce.
Garnish with cayenne pepper, scallions, cilantro, and crushed peanuts.