Desserts / Sweets / Treats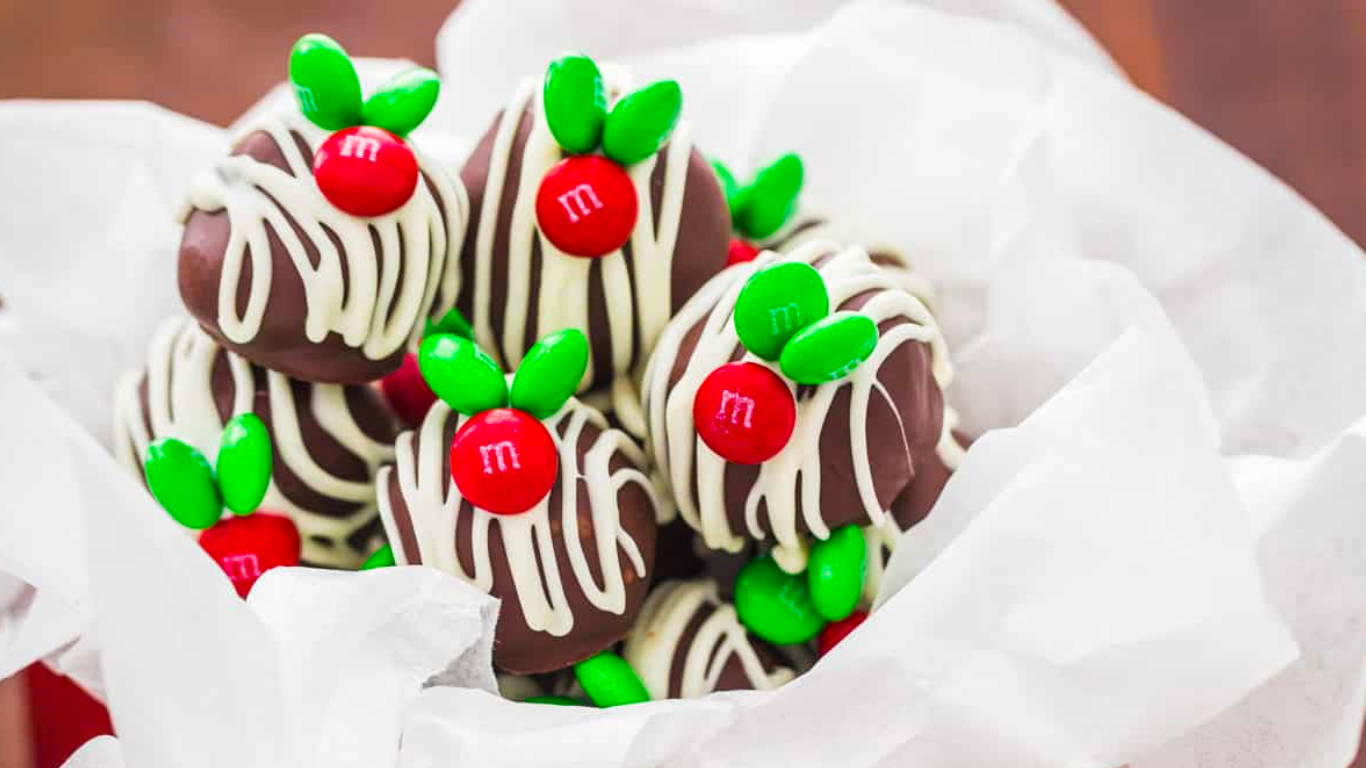 Chef's Note
Indulge in the festive spirit with this delightful holiday coconut ball recipe. Blending the tropical essence of coconut with the richness of condensed milk, these luscious treats are adorned with a decadent layer of semisweet chocolate and a festive drizzle of white chocolate, creating a perfect combination of flavors and textures for your seasonal celebrations. Share the joy by gifting these irresistibly sweet and chewy coconut balls, adorned with colorful M&M's, to your loved ones this holiday season!
2 cups Unsweetened Organic Shredded Coconut


1/2 cup sweetened condensed milk


5 Tbsp. coconut oil (solid form, not melted), (1/3 cup)


1 tsp. vanilla extract


1/2 cup Red and Green M&Ms, plus more to decorate

For Topping/Coating:
1 cup semisweet chocolate chips


1 Tbsp. Fiesta Tropicalé Organic Virgin Coconut Oil


1/2 cup white chocolate chips, melted

Pulse shredded coconut in a food processor or blender until it reaches a breadcrumb-like consistency, then transfer it to a bowl.
Add 1/2 cup of condensed milk, 5 tablespoons of coconut oil, and 1 teaspoon of vanilla, stirring until well combined. Gently fold in 1/2 cup of M&M's until just incorporated.
Use a small cookie scoop to create evenly sized balls and place them on a parchment-lined baking sheet. Roll the balls between your hands to smooth the surfaces, then refrigerate for 15 minutes.
In a small microwave-safe bowl, combine 1 cup of semisweet chocolate chips and 1 tablespoon of coconut oil. Heat in 15-second increments, stirring each time, until the chocolate melts (usually 45-60 seconds total in the microwave).
Dip each ball in the melted chocolate, allowing excess to drip back into the bowl. Transfer the coconut balls to the parchment-lined baking sheet and refrigerate until firm.
To decorate the coconut balls: melt 1/2 cup of white chocolate chips (30-45 seconds total in the microwave), transfer it to a ziplock bag, snip off a corner, and drizzle each coconut ball with melted white chocolate. Immediately top with M&M's before the white chocolate sets. Enjoy!